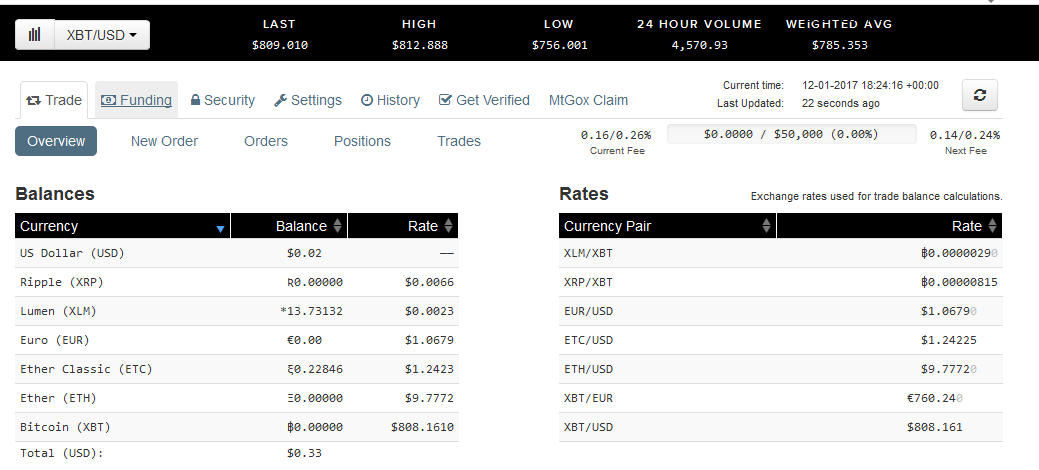 Kraken offers many cryptocurrency pairs to trade, youll want to check out the full listhere. Currencies traded include Bitcoin, Ripple, Dogecoin, Litecoin, Ven, and more. Kraken allows traders to make direct trades between all available pairs, which is more flexible than the other exchanges weve looked at.
If youve been following ourblockchainandcryptocurrencyseries, you know there are several platforms where you can trade your cryptocurrency. Kraken is a San Francisco-based cryptocurrency exchange founded in 2011. It allows users to trade international currencies alongside USD, like CAD, JPY, EUR, and GBP.
Tier 4 users have higher funding limits than Tier 3 users. Tier 4 users can be individual and corporate accounts. Corporate account verification requires going through support, and if you are a corporate account hopeful, you may want to finish reading this review before opening an account on Kraken.
Kraken is a great exchange for beginners to pick up a few tips and tricks. Its also a great platform for professional traders with its offering of several different order types.
The platform also comes with Pretty Good Privacy (PGP) for decryption and encryption of email. This depends on whether or not your email server allows PGP encryption, but its a great tool to keep your account safe and secure.
Cryptocurrencies, Digital Pensions for a Digital Generation
But most Kraken users know they can get in touch with a Kraken representative outside of the platform by utilizing Reddit, Facebook, Twitter, and other social media websites.
Kraken is also the largest Bitcoin exchange in Euro volume and liquidity and in trading CAD, USD, GBP and JPY. It offers several altcoins and cryptocurrency pairs, including Litecoin and Dogecoin.
Can Be Laggy When Market Is Volatile
Yes; only a bank account can fund trades
Kraken was the first company to create a cryptographically-verified proof-of-reserves which shows that the exchange holds 100% of customer funds, as expected.
Recent comments from customers show that Kraken responds to support requests after weeks or months. This includes Tier 3 and Tier 4 verification, which require customers to go through Krakens support manually. If you need to buy cryptocurrency ASAP, Kraken may not be the best option for you. This also applies for corporate users, who also need manual support verification.
250+ cryptocurrencies, USD-Tether, and BTCNY
Support Time Varies, Can Take Weeks For A Response
Krakens platform sometimes lags when the market is volatile. Users often place orders only to have their order executed hours later, when the price is no longer desirable for the trader.
Authors Review Score Breakdown
Tags:bitcoincryptocurrency exchangeethertrading
Maker fees 0.00%-0.16% / Taker fees 0.10%-0.26% (more for specific pairs)
International Currencies Outside of USD Offered
Each coin is charged a different fee, cannot withdraw in fiat currency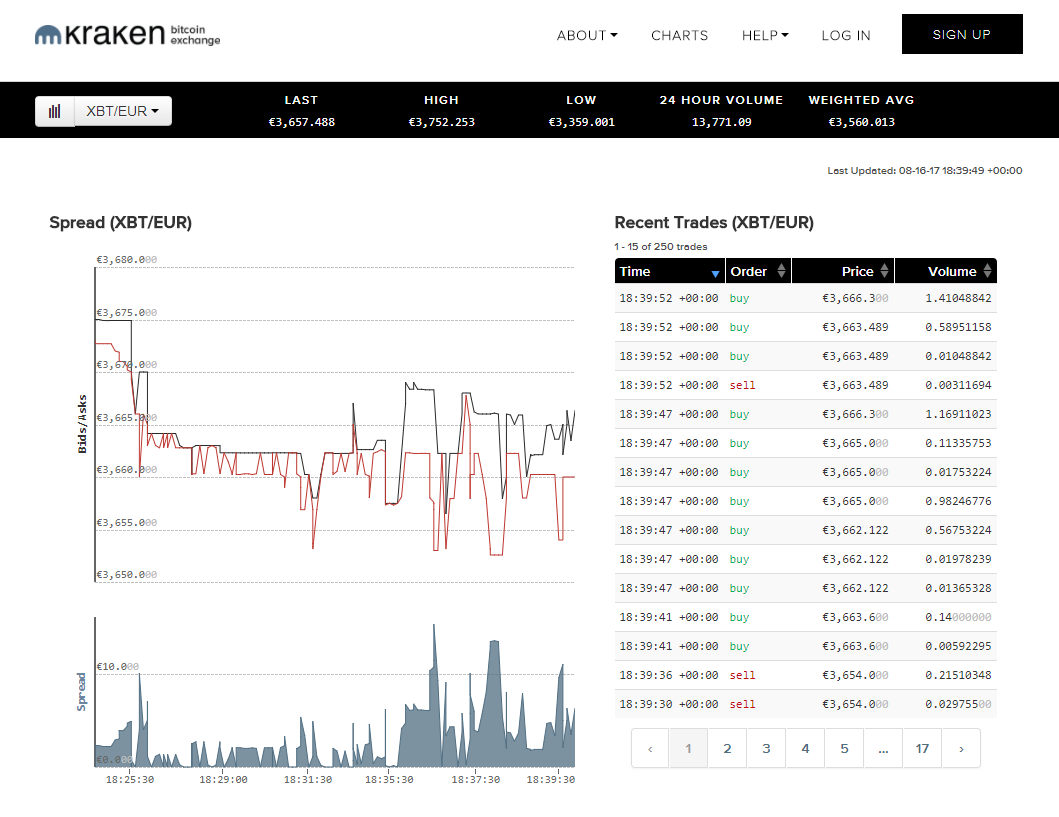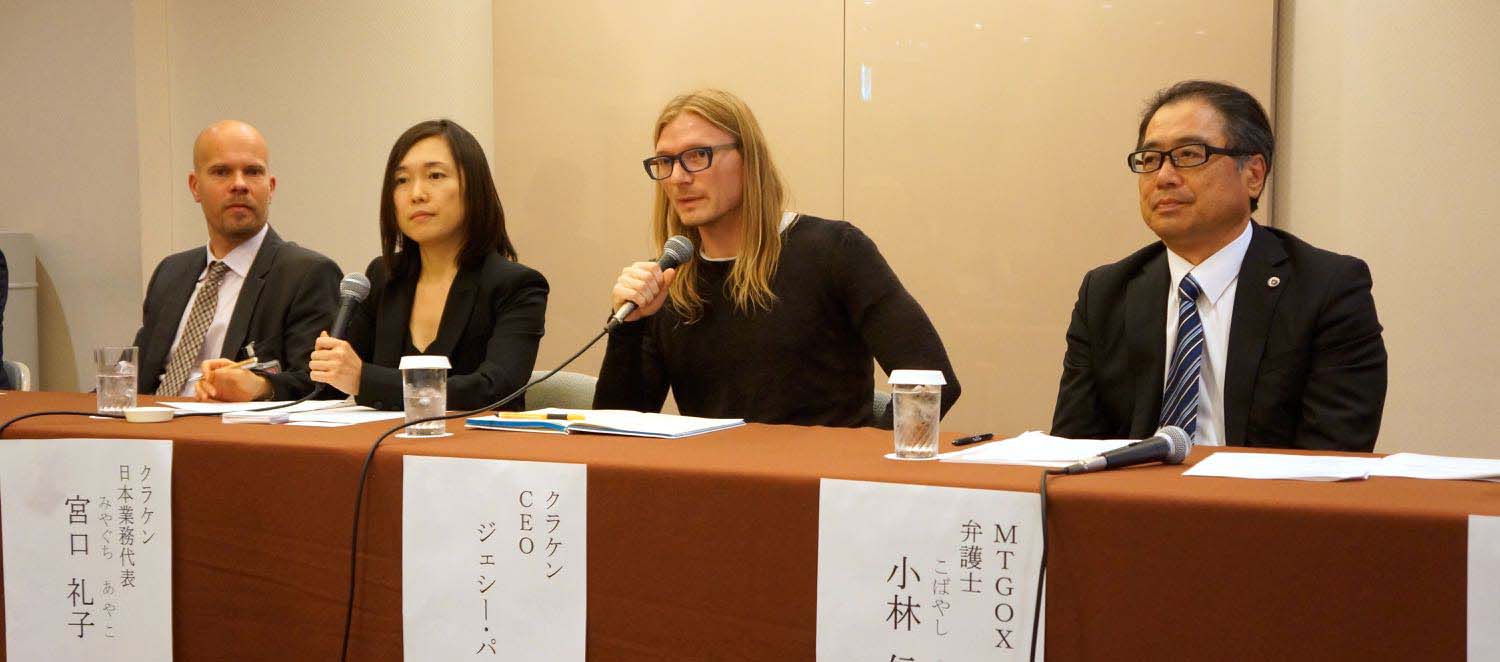 BTC Cash, BTC, ETH, USD, other coins (no Bittrex fees on deposits)
bitcoin, bank wire, bank transfer (ACH)
Margin trading is available on these currency pairs: XBT/EUR, XBT/USD, ETH/XBT, ETH/USD, ETH/EUR, ETC/XBT, ETC/ETH, ETC/USD, ETC/EUR, REP/XBT, REP/ETH, REP/EUR. XBT is Krakens abbreviation for BTC.
While the platform hasnt been hacked, several user accounts were hacked from not using 2FA security. As with most other cryptocurrency exchanges, Kraken holds the majority of its funds offline in cold storage. Kraken holds their servers in secure facilities with armed guards, retina scanners, and top-notch video surveillance.
Trading limits depend on your tier of verification. Tier 1 users can only deposit and withdraw cryptocurrencies. However, they are allowed to trade both cryptocurrency and fiat currency. There is no limit to deposit, but withdrawals are limited to $2,500 per day and $20,000 per month.
Most maker fees start at 0.16% and drop to 0.00% with increased volume. On the other hand, most taker fees start at 0.26% and drop to 0.10% with increased volume. On average, the fee is 0.19% with a $20 minimum.
For deposits, Bitcoin, Litecoin, Dogecoin, Stellar/Lumen (XLM), Monero (XMR), Zcash, Dash, and Tether USD are free of charge. The rest of the currencies require fees for either moving the currency into your Kraken wallet or for an address setup.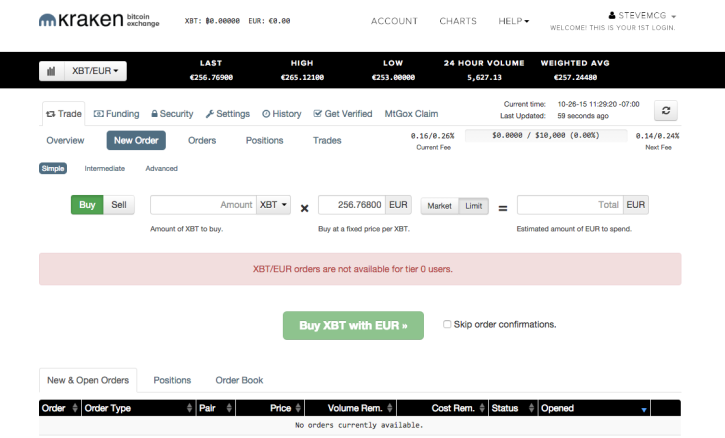 up to 0.15% fee/rebate for taker/maker
Withdrawing fiat currency or cryptocurrency willcost youfor every single currency on the platform.
With the five fiat currencies available, Kraken attracts many international traders. Other exchanges weve looked at in the past had highly-rated mobile apps for iOS and Android. Unfortunately, Kraken falls really low on this specific feature. Kraken created their iOS app, but the Android app is an unofficial Bitrocket IT version. With a large international customer base, it being 2017, and cryptocurrency exchanges being open 24/7, I expect better work from Kraken in terms of mobile trading possibilities.
Bullish on Bitcoin: Acclaimed Trader Predicts Value of $15,000 This Year
Bitcoin and Bitcoin Cash in Limbo: Was the Blockchain Split Worth It?
Your trading limits and ability to withdraw and deposit money depend on the verification tier for your account. There are four tiers: Tier 1 and 2 usually only take a few minutes to verify information and identity. Tier 3 usually requires a few more days. Without any verification, you cannot trade, deposit, or withdraw money. To become Tier 4, you must first be Tier 3 and apply through support for a higher-spending account.
SEPA, Swift, JPY Bank Transfer, Crypto (fees apply on all fiat and crypto currencies)
Kraken is notable because its taken first in quite a few historical feats. It was the first Bitcoin exchange to display trading price and volume on the Bloomberg Terminal. It was also the first to pass a cryptographically-verifiable proof-of-reserves audit. Kraken is a partner in the first cryptocurrency bank. Its rated highly consistently for being the best and most secure Bitcoin exchange by independent news media.
Pair any of these: USD, CAD, Euro, GBP, JPY and BTC, The DAO, ETC, ETH, DOGE, DASH, ICN, LTC, REP, XLM, XRP, ZEC
Fees vary and depend on volume. For main trading pairs, the fee ranges from 0.1% to 0.35%. And for less common pairs, the fee can be as low as 0.05% or as high as 0.75%. For traders offering liquidity, there are also 0% fees on some cryptocurrencies.
Kraken boasts that its never been hacked before. They take security very seriously with two-factor authentication (2FA). 2FA is the first step in securing your account from hackers. Kraken also allows users to design a master key for recovery. You can lock the settings on your account with an overall settings lock.
Litecoin: a Legitimate Contender in Cryptocurrency
Tier 2 users can deposit and withdraw fiat currencies depending on their country of residence. US, Canada, Japan, Germany, and other countries require a Tier 3 verification to deposit fiat currency. For Tier 2 users, deposits and withdrawals in fiat currency caps are $2,000 per day and $10,000 per month. The cap on cryptocurrency withdrawals sits at $5,000 per day and $50,000 per month.
Someone in Texas Just Used Bitcoin to Buy a House
The Kraken API allows for margin trading, proof of reserve, and advanced trade types. There is no support for derivatives or futures trading. But Kraken has all the functions found in the forex trading markets. Users can use limit orders, advanced orders with predefined triggers, leveraged positions, margin trading, and short selling.
SEPA, Swift, JPY Bank Transfer, Crypto (about half are free, other half require fee)
Sources:CryptocompareTopTenReviewsBest Bitcoin Exchange
With Krakens 2014 integration with Bloomberg terminals, the exchange offers nice-looking visual components throughout their platform. Compared to Geminis platform though, Kraken falls short on design and user interface.
Tier 3 users can perform margin trading and are allowed to deposit and withdraw fiat and crypto currencies. Fiat deposits and withdrawals limits are $25,000 daily and $200,000 monthly. Withdrawals in digital currencies caps are $50,000 per day and $200,000 per month.
Kraken separates itself from other exchanges by offering margin trading. Margin trading on not only USD sets this exchange on another level for margin trading.