Older kids can learn money counting skills bybeing the cashier in thelesson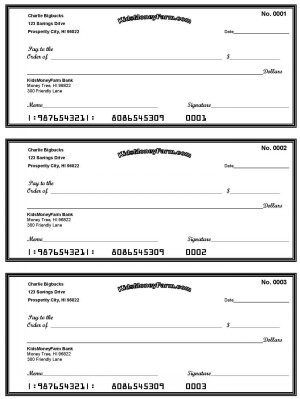 PersonalMoneyDinoDollarsPuppyMoneyRealisticTemplates
Want an easy way to teach your kids how to write a check? The best way for them to learn is through practice and repetition.
Use the template printed money as a reward/point system. If they reach a certain goal in play money given, reward them with something they deserve (You have to decide whats within reason)
Children can learn a lot of essential lessons through role play with fake pretendmoney (example: Setup a pretend grocery or candy store and have your kids shop with only a setamount of funds. Theyll have a blast and wont even realize they are learning about budgeting!)
Click hereto download and print a free check worksheet where they can practice writing checks. A good realistic way to get them interested is totake a receiptyou dont need anymoreandhave your kids make believe they need towrite a checkas if they were going to pay for the items.
How to Teach Your Kids UNFORGETTABLE Lessons on How to Handle Money and Avoid Debt!
, December 1st! Sign-up for our newsletter today to seethis special pre-release!
for fun ways to teach your kids how to handle money.Printable playmoney templates help makegames andlessons unforgettable!
Click the image below to be taken to the How to write a check page
Click here to get the iPhone Play Money Creator App
NEW DOWNLOADABLE AND PRINTABLE CHECK TEMPLATE! FREE!!
Example object lessons with fake pretendmoney are much more effective than lessons on worksheets
Can Help Your Kids Learn about money:
Theres even a template foryou toadd yourown faces to printed money!
Kids take a higher interest in things that they feel ownership of what their using. Nothing says OWNERSHIP better than
Only the first 1000 Newsletter sign-upswill receive access our pre-releaseVideo Lessons on
Math skills are sharpened using visual aids (the visual aid being the printed money of course)
Add a Face Instantly to Play Money Using Your
BibleBucksCheckWritingBudgetWorksheets


first of 3 videos has been released